English
What you see is what you get.
KITADA-EN's website since May 19 ,1999
Welcome to KITADA-EN's website.
KITADA-EN has grape and Japanese pear farm.
You can harvest what you want at each harvest time.
Please check it at this web site.
NEW (latest up date Sep. 26. 2021)
All harvest of our farm has finished for this year.
We built new sign (July 22 ,2011)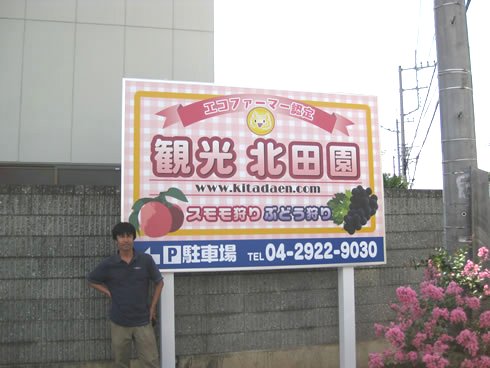 I recommend you grape harvest on Aug. if you make plan to visit Japan.
On harvest season, we open 9 to 5 except Wednesday.
About quakes …
We Japanese appreciate for helping us from many forign countries.
Especially, we've got big donation form Taiwanese.
I feel closer to Taiwanese than ever!! Thank you!!
But,,,news said missing and death toll will be raised nearly 20000.
There is no affect of the quake for our farm except invisible radioacitve materials from nuke plant.
I made link to investigation page for radioactive materials on our area.
http://www.pref.saitama.lg.jp/page/housyasenryou.html
(These days, it looks as same level as ordinary days that before quake)
I believe we all Japanese can come over this terrible trial.
Thanks mate!
Why don't you come to my farm this year?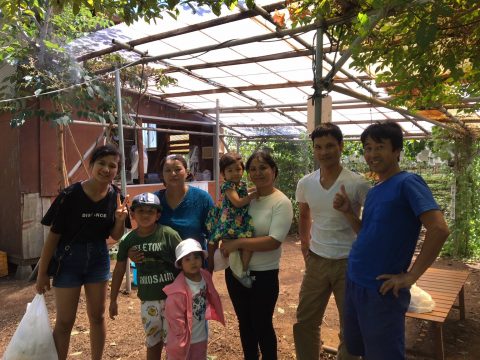 Here comes the highest land country customer from Nepal !!
L) Here comes beautiful ladies from Hong Kong on Aug 19 2007.thanks!
R) Here comes friendly families from Peru on Aug 14 2008 , gracias!!
L) Here comes rare country customer from Iran on Aug 21 2008, سپاسگزارى
R)Here comes never compromise country customer from German on Sep 20 2009,danke!
How small the world is !
★Click each buttons, please
<grape harvest> <Japanese pear harvest>
address: 1-234-9 Kitanaka Tokorozawa-shi Saitama Japan
tel. fax: 04-2922-9030
e-mail: ykitada@jcom.home.ne.jp (Send me your English e-mail,please .)
special thanks: David (Sydney ,Australia)
★ THE CONTENTS OF THIS WEBSITE SHOULD NOT BE COPIED OR USED WITHOUT PERMISSION.